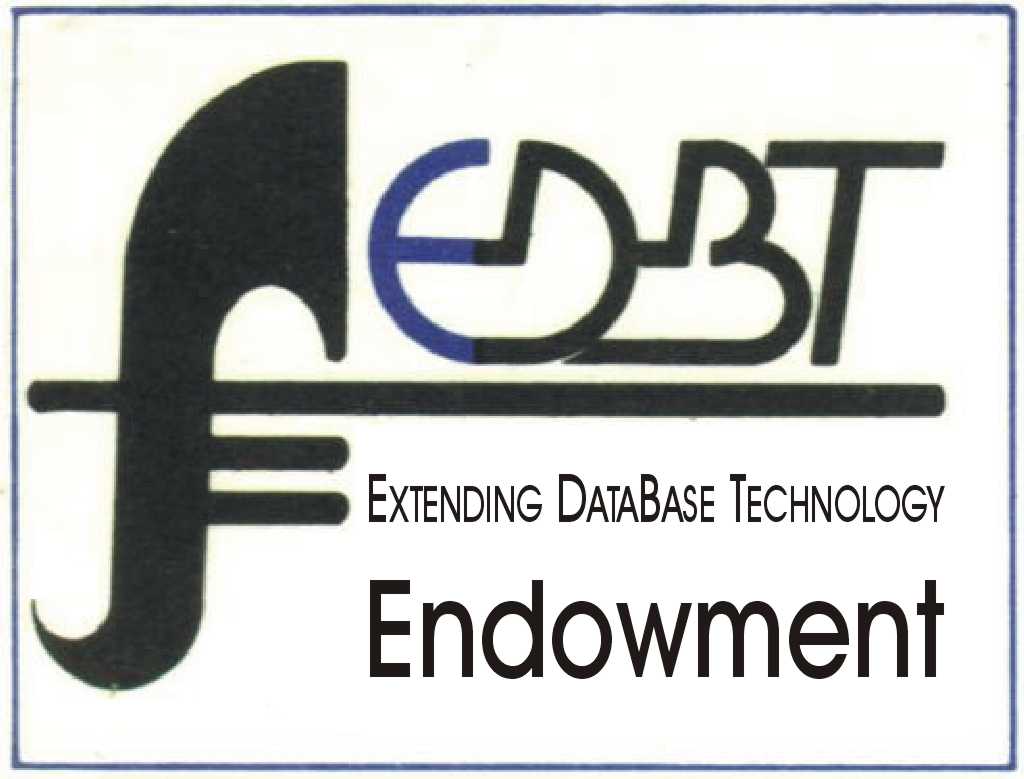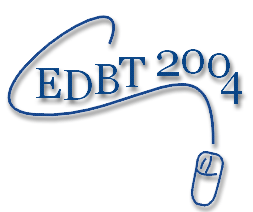 dataX
International Workshop on Database Technologies for Handling XML information on the Web
In conjunction with Int'l Conference on Extending Database Technology (EDBT 2004)
March 14, 2004, Heraklion - Crete, Greece
---
[ Program | Paper Submission | Paper Publication | Important Dates | Program Committee | Organization Committee | Call for Papers (PDF-Version) ]
---
Call for Papers
The workshop theme is the use of Database Technology and the Extensible Markup Language (XML) in the Web. Modern database systems enhance the capabilities of traditional database systems by their ability to handle any kind of data, including text, image, audio, and video, and to provide access to these data via SQL-like query languages. Today, database systems are particularly relevant to the Web, as they can provide input to content generators for Web pages, and can handle queries issued over the Internet. As database systems increasingly start talking to each other over the Web, there is a fast growing interest in using XML as the standard exchange format. As a result, many relational database systems can export data as XML documents and import data from XML documents. XML is on its way to becoming the communication standard of the Web. Moreover, there is an increasing trend to store XML-data in database systems and, by this, make it easier to access and maintain. In the meantime, some commercial database systems are already on the market that are especially tailored to store, maintain and easily access XML-documents.
The goal of this workshop is to bring together academics, practitioners, users and vendors to discuss the use and synergy between the above-mentioned technologies. Many commercial systems built today are increasingly using these technologies together and it is important to understand the various research and practical issues. The wide range of participants will help the various communities understand both specific and common problems.
---
Topics
In order to foster a lively exchange of perspectives on the conference topics, the program committee encourages contributions from both researchers and practitioners. Topics of interest include, but are not limited to:
Methodology and tools for the design of XML schemas and DTDs
Interchange and integration of XML data
Metrics for XML documents and schemas
XML query languages
Storage and compression of XML data
Indexing and retrieval of XML data
Query processing over XML data
Benchmarks and performance
XML Infrastructure technology
Streaming of XML documents
Security and privacy with XM
Selective dissemination of XML documents
XML and e-commerce
XML and business (XML/EDI)
XML Ontologies for semantic Web
Convergence of XML and Information Retrieval
Convergence of XML and Decision support
Web mining
Navigation of XML documents on the Web
---
Paper Submission
Workshop submissions must generally be in electronic form using Portable Document Format (.pdf), PostScript (.ps) or WinWord (.doc). Papers must be unpublished and not exceed 15 pages in length. Papers should be formatted according to the Springer-Verlag Lecture Notes in Computer Science (LNCS) guidelines. LNCS formatting guidelines and templates can be found at http://www.springer.de/comp/lncs/authors.html.
All submitted papers will be judged on their quality and relevance from at least 3 members of the program committee. At least one author of each accepted paper must attend the workshop to present their work.
Authors shall submit their papers electronically to dataX@disi.unige.it together with an ASCII version of the title and abstract.
---
Paper Publication
Papers accepted for presentation will be included in the informal proceedings to be distributed at the Workshop. Post-workshop proceedings will appear in the LNCS series published by Springer-Verlag.

---
Important Dates
| | |
| --- | --- |
| Paper Submission Deadline: | NEW DEADLINE 18 January 2004 |
| Notification of Acceptance: | 20 February 2004 |
| Camera Ready Copy: | 1 March 2004 |
| Workshop: | 14 March 2004 |
---
Workshop Program Committee
Ricardo Baeza-Yates, University of Chile (Chile)
Zohra Bellahsene, LIRMM (France)
StÚphane Bressan, NUS (Singapore)
Barbara Catania, University of Genova (Italy)
Akmal B. Chaudhri, IBM developerWorks (UK)
Klaus R. Dittrich, University of Zurich (Switzerland)
Elena Ferrari, University of Insubria (Italy)
Mary F. Fernandez, AT&T Research (USA)
Giorgio Ghelli, University of Pisa (Italy)
Sergio Greco, University of Calabria (Italy)
Giovanna Guerrini, University of Pisa (Italy)
Hosagrahar V. Jagadish, University of Michigan (USA)
ZoÚ Lacroix, Arizona State University (USA)
Anna Maddalena, University of Genova (Italy)
Gianni Mecca, UniversitÓ della Basilicata (Italy)
Marco Mesiti, University of Milano (Italy)
M. Tamer Ízsu, University of Alberta (Canada)
Rajeev Rastogi, Bell Labs (USA)
Ralf Schenkel, Max-Planck-Institut (German)
Divesh Srivastava, AT&T Research (USA)
Rainer Unland, University of Essen (Germany)
Athena I. Vakali, University of Thessaloniki (Greece)
---
Organization Committee
Barbara Catania, University of Genova (Italy)
Akmal B. Chaudhri, IBM developerWorks (UK)
Giovanna Guerrini, University of Pisa (Italy)
Marco Mesiti, University of Milano (Italy)
---
Please send suggestions and comments to: Marco Mesiti dataX@disi.unige.it
---
Last Updated: 13 November 2003